Swanky speakeasies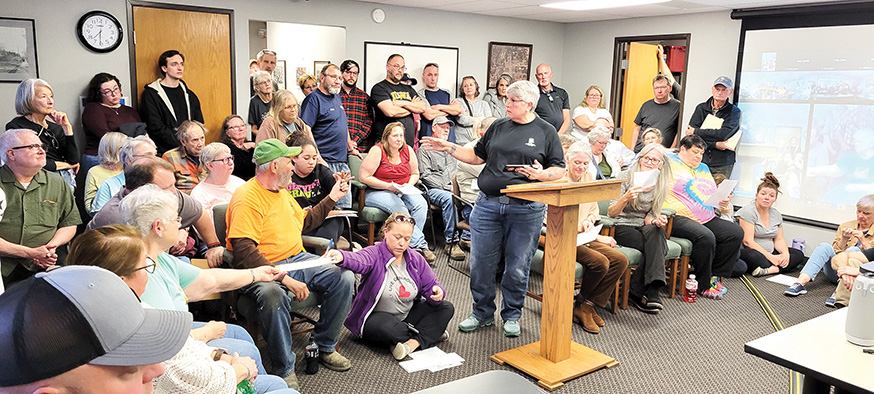 Gregory R. Norfleet/West Branch Times
At a special VIP reception for Hoover Presidential Foundation members Friday night, visitors dressed in 1920s garb walk past a display for the newest temporary exhibit, "Ain't Misbehavin'? The World of the Gangster." The exhibit runs through Oct. 23 at the Hoover Library-Museum and is laid out like 1920s downtown Chicago, where places like butcher shops, repair garages and flower shops are merely fronts for mob goings-on in back rooms. Stepping inside, one finds prohibition-era stills, pictures of corrupt politicians, tommy guns, gambling parlors and more. There's even a jail where visitors can dress up in a striped prison uniform, get fingerprinted and photographed for a mug shot.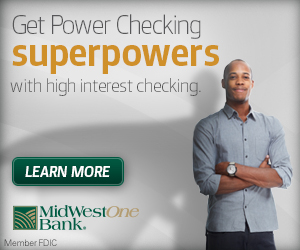 $8,000 in CFCC grants going toward busing, STEM, tools and defibrillator
by Gregory R. Norfleet · News · April 28, 2016


Four West Branch-area groups received a total of $8,000 in grants from the Community Foundation of Cedar County, the organization announced Friday.
Elevator project at WBUMC delayed by rezoning vote
by Rick DeClue · News · April 28, 2016


In an effort to get construction started as soon as possible on a new addition, the West Branch United Methodist Church asked the city council last week to approve the required three readings at once on a rezoning request for the $620,000 project.
Facing $338K shortfall, BOE OK's $10 per pupil instructional fee bump
by Gregory R. Norfleet · News · April 28, 2016


Parents will pay an additional $10 per child in instructional fees after the West Branch Board of Education on April 11 approved the increase.
Comedy whodunnit on stage at WBHS
by Gregory R. Norfleet · News · April 28, 2016


The Barnsley Inn in New England would normally not accept guests this time of year, because a poltergeist named Marco likes to throw knives around the place.
City spending $8,000 to create logo and story for West Branch
by Gregory R. Norfleet · News · April 28, 2016


The West Branch City Council put up $8,000 on April 4 to hire Jonny Stax Presents Inc. to create a brand for the city and to clarify the story behind that brand.
Drug take-back April 30
News · April 28, 2016


West Branch Police Department is hosting another prescription drug take-back event.
Lions host blood drive
News · April 28, 2016


The West Branch Lions Club will host a community blood drive 2 to 6:30 p.m. Tuesday, May 10, at the United Methodist Church, 203 North Downey.
"Fifth disease" reported at Hoover
News · April 28, 2016


Parents received notice this past week that one confirmed case of Fifth disease was found at Hoover Elementary this past week.
Firefighters raise $1,442
News · April 28, 2016


According to an April 24 memo from the city to West Branch City Council members, local firefighters who participated in the American Lung Assoc. Fight for Air Climb in Des Moines raised $1,442 at the April 10 event.
Lions, Scouts clean ditches
News · April 28, 2016


On Sunday, April 24, the West Branch Lions Club and West Branch Boy Scouts teamed up to create a 13-member group that cleaned nearly three miles of ditches along Herbert Hoover Highway.