Serious crash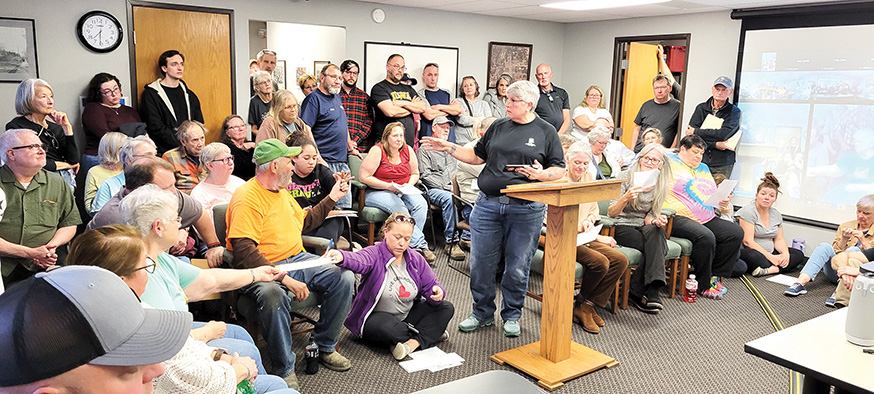 Gregory R. Norfleet/West Branch Times
Standing in a ditch next to two crashed vehicles, a parent holds a small child Monday morning along Interstate 80, while a motorist views the scene. Emergency responders transported five people, one with serious injuries, to nearby hospitals.

$22M project, Sept. 12 vote after BOE tweaks proposals
by Gregory R. Norfleet · News · May 18, 2017


For the most part, the planned school additions will not change drastically, but the School Board hopes the tweaks put in place last week will give them the last 4- to 5-percent voter approval they lacked for passage in February.
EMTs pitch senators for more funding
by Gregory R. Norfleet · News · May 18, 2017


"What were those numbers again?" state Sen. Bob Dvorksy said Friday morning, turning to West Branch Emergency Medical Technician Sandy Heick.
Council left with 2 names for top job
by Gregory R. Norfleet · News · May 18, 2017


Two of four finalists remain after two others dropped out of the running for West Branch city administrator, the mayor said Monday.
City changes TIF agreement after P&G exits Duke space
by Rick DeClue · News · May 18, 2017


Procter and Gamble's Hair Care, LLC ceased operations in what is known as the Duke building due to lack of need for the space at this time.
Five taken to hospital after car hits parked van on I-80
by Gregory R. Norfleet · News · May 18, 2017


One man suffered "serious and incapacitating" injuries after a two-car crash 10:05 a.m. Monday on Interstate 80 near the 253 milemarker, just west of Lower West Branch Road bridge.
Hoover USA picks 2017 finalists
News · May 18, 2017


The Hoover Presidential Foundation announced the names of 15 students from across Iowa as finalists in the annual $30,000 Uncommon Student Awards program.
Ranger-led prairie walks restart in June
News · May 18, 2017


Each Sunday in June and July a park ranger leads visitors through the 81-acre tallgrass prairie at Herbert Hoover National Historic Site.
Fans, air conditioners available
News · May 18, 2017


Applications will be taken at Community Action of Eastern Iowa starting on May 15 for fans and air conditioners.
Flags go up Friday
News · May 18, 2017


Volunteers are needed to put up flags on Friday, May 26, at 5 p.m. at the West Branch Cemetery.
Music on the Green returns May 24
News · May 18, 2017


Herbert Hoover National Historic Site, in partnership with the City of West Branch and West Branch Community Development Group, invites visitors to come to the summer concert series, which starts off with a performance by the West Branch High School Jazz Band 7 p.m. Wednesday, May 24.