A warmer day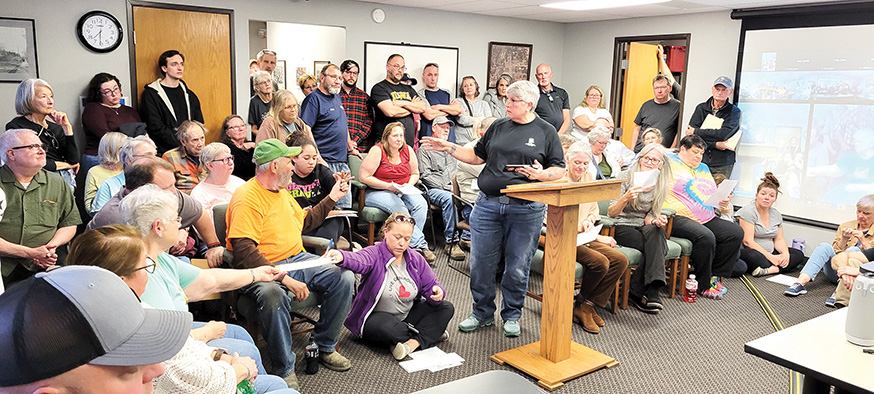 Gregory R. Norfleet/West Branch Times
Kayden Powell, 2, smiles Saturday while sitting just a few feet away from where he was found at the BP-Quizno's in a tote box in freezing temperatures after his aunt kidnapped him in February 2014. He visited the site with, from left, former West Branch Ofc. Alex Koch, who arrested kidnapper and aunt Kristen Smith; WBPD Chief Mike Horihan, who found him; and mother Brianna Marshall. Powell survived 29 hours in temperatures that dropped to as much as 17 degrees below zero.
Baby left in cold visits the city two years after his kidnapping
by Gregory R. Norfleet · News · June 23, 2016


Nearly 2 1/2 years after the kidnapped newborn survived 29 hours in freezing temperatures, Kayden Powell returned to West Branch Saturday and, just like before, a herd of news outlets clamored to see him.
What's quicker: Pool at PV park, or Cedars Edge?
by Lisa McDonald · News · June 23, 2016


Parks and Recreation Commission leaders disagree on what would take longer: building a pool at Cedars Edge Golf Course or building it on city land.
Superintendent apologizes for bid 'oversight'
by Gregory R. Norfleet · News · June 23, 2016


The West Branch school superintendent last week apologized to the Board of Education for not presenting all available bids before the school board voted on $141,000 in new laptops.
WBMS: More suicidal thoughts, self-harm
by Lisa McDonald · News · June 23, 2016


A letter sent the last week of school to all middle school parents said school staff saw increased reports of "suicidal thoughts and self-harming behavior."
Teacher uses Underground RR route to spotlight human trafficking crimes
by Lisa McDonald · News · June 23, 2016


A high school history teacher passed through West Branch Sunday while walking an Underground Railroad route to raise awareness of human trafficking.
Peace walk on July 1
News · June 23, 2016


Members of the Great Peace March are celebrating their 30th anniversary reunion July 1 by holding a peace walk from Scattergood Friends School in West Branch to Iowa City.
Promo meeting June 28
News · June 23, 2016


The next West Branch Promotions Strategy Session is set for 7 to 9 p.m. June 28 in the meeting room at Heritage Merchants, 105 South Downey Street.
Class of 1956 hosts 60th reunion
News · June 23, 2016


The West Branch Class of 1956 will hold their 60th Class Reunion at noon on Friday, Aug. 5, at The Blackstone Restaurant in Iowa City.
CALENDAR
News · June 23, 2016


CHURCH NEWS
News · June 23, 2016