| | |
| --- | --- |
| | Friday, May 24, 2013 |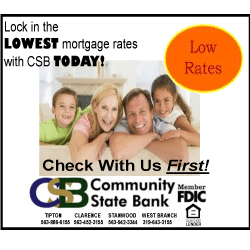 Animal Control moves forward with dog park

by Rick DeClue · News · August 17, 2012

A local group wants to give West Branch dog owners the option of running their pets unencumbered by leashes right here in the city.


Led by Dr. Alan Beyer, local vet and head of the city's Animal Control Commission, the group plans for a West Branch dog park. They have two potential sites under consideration, and offers of support continue to gain momentum.

Beyer said he got a lot of positive reaction to the potential development during the Hoover Days celebration. The commission sponsored a parade float saying, in effect, stay tuned.

Beyer discussed at the May city council meeting the first site under consideration, a triangular-shaped area east of the creek near the city's new park off of Second Street.

Recently, the city talked with Amy Lynch about a possible location on excess ground the city owns near Beranek Park. Lynch is an Animal Control Commission member spearheading the group's site planning.

According to West Branch City Administrator Matt Muckler, the Beranek Park location is larger and could share existing parking. A potential drawback to this site is that the excess ground is north of a creek separating it from Beranek Park. This may require construction of a footbridge for access from parking.

Muckler said he anticipates a footbridge provided by the city, though the possibility of offering this site and the footbridge have not yet been presented to city council.

Local Girl Scouts plan to partner with the Animal Control Commission as part of a community service project requiring at least 50 hours of work. They hope to provide benches and a shelter for the park, and have begun gathering materials, Beyer said.

West Branch city council members Colton Miller and Dan O'Neil, along with the local Boy Scouts, have also offered to help.

Beyer said city dog owners have long pursued how to bring this "quality-of-life project" to West Branch. He admits they intend to borrow ideas from the best features of dog parks they have visited.

A final design for the dog park will depend on site selection and resources. Beyer said the minimum-size enclosed area needs to be big enough for the dogs to run. Ideally, the park could provide two separate areas, for small and large dogs.

While the site will be owned by the city, the group intends to seek private funding, along with material donations and all volunteer labor for construction of the dog park.

Muckler said the city could maintain the dog park, for such things as mowing. Dog owners would be responsible for picking up after their pets.