| | |
| --- | --- |
| | Thursday, May 23, 2013 |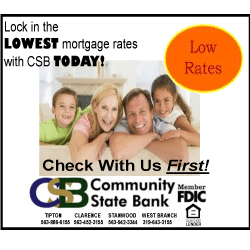 Kim Ray picked for WB's first dean/A.D. job

by Gregory R. Norfleet · News · July 06, 2012

West Branch Community School's first dean of students and activities director, Kim Ray, starts her job this week, returning to Iowa.


Ray said she is "excited about the new challenges" that come with the position.

Her base salary will be $50,000.

Ray was one of six "really good candidates" and met with three committees in the hiring process.

"She just has a heart for kids," Superintendent Kevin Hatfield said.

Hatfield said the dean/A.D. will, in the hierarchy of administrators, serve just below the principals, reporting primarily to the middle school and high school principals.

He expects the dean to spend about 70 percent of her time with students.

Her official start date is July 1 as per contract, though because of the holiday, Hatfield expects her to be full-time on duty starting July 9.

Ray is coming from Edwardsville (Ill.) Community School District, where she served as an administrative intern and taught physical education classes.

Ray has also coached a variety of sports, including volleyball, basketball, track and field. She worked in Montana a few years earlier, where she coached a high school girls cross country team to state titles.

She said that when she visited West Branch for her interview, she drove around town and found it similar to her hometown, which also had about 2,000 residents.

"(The residents) are very friendly to anybody who moves into the community," she said. "Smaller communities are appealing to me."

Ray said that when she stopped to ask for directions to the high school, even the gas station attendants were "nice and friendly."

Ray had lived in Monroe, Iowa, near Des Moines, where she worked as an elementary principal before her husband, David, took a wrestling coach job at Southern Illinois University at Edwardsville. David, she said, lived in Iowa City for 12 years and wrestled under famed coach Dan Gable.

"I never knew anything about wrestling until I met Dave," Ray said. "I had to be educated."

The school board initially expressed reluctance when Hatfield proposed the position, and said he needed to determine a way to measure effectiveness in the first year. The board said that it may consider eliminating the position if it did not seem effective, and directed Hatfield to inform the candidates.

Ray's contract is for one year, though she said she was not aware the position could be eliminated. Hatfield said that he told her "up-front," and said he was confident the position would remain.

"It is highly unlikely we will want to get rid of it," he said. "Though there are no guarantees."

Hatfield developed an 11-point list of "outcomes" for the dean of students, that include filling in for principals and helping evaluate staff and improve communications. Some highlights of that list:

• Improve overall student attendance and the district's graduation rate.

• Improve extracurricular participation rates and extracurricular programming across the board.

• Improve fundraising processes through a more structured, articulated effort.

• Provide timely, transparent budget reports to all interested extracurricular stakeholders.

• Professionalize the evaluation process of coaches and directors.

"We've set the bar high," Hatfield said. "I think you'll be pretty impressed."

He said that there is a lot of overlap between the high school principal and counselor that the dean should be able to alleviate.

"We don't do a lot of things well," he said. "If we want our achievement data to go up, we've got to improve."

Ray said that she plans to "fine-tune" the new job by working with the administration "so we can make adjustments for the following year."

She attended college at Montana State University-Northern where she earned a masters degree. Ray then earned her superintendent certificate through SIU-E.

For this first year, Ray said she will be the only member of her family moving to West Branch as David's coaching contract runs for another year.

The two have four children: a son, Taylor, 13; and three daughters: Lexie, 11, Michelle, 10, and Brooklyn, 4.