| | |
| --- | --- |
| | Wednesday, May 22, 2013 |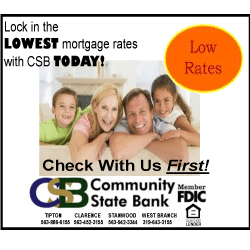 Two teens hurt when ATV strikes car

by Gregory R. Norfleet · News · June 29, 2012

Two West Branch teenagers received injuries — one serious — when their ATV hit a car head-on June 21 in northern Cedar County.


Avery Jacob Rodgers, 15, who was driving the all-terrain vehicle, broke his wrist and received cuts to his forehead and leg when he hit the windshield of a 2000 Ford Taurus. He was flown by LifeGuard helicopter out of Cedar Rapids to the University of Iowa Hospitals and Clinics, West Branch Fire Chief Kevin Stoolman said. Avery was kept overnight at the hospital.

His passenger, Travis Wolf, 16, received minor injuries and was treated and released the same day.

Geraldine Marie Kindler, 45, of Solon was driving the car; she was not injured. The car received about $3,000 in damages. The 1996 Polaris ATV, owned by Jennifer L. Rohret, incurred about $1,500 in damages, according to a Cedar County Sheriff's Department report.

According to the sheriff's report, the ATV was traveling south at 95 Solon Road about 4 1/2 miles east of Solon. The car was northbound when they met at the top of a hill. Rodgers and Wolf were ejected, and Rodgers struck the windshield of the car.

Stoolman said the accident was on a private drive. The crash "wasn't really fast," he said, and he was able to see at the scene that the injuries were not life-threatening.

Tracy Schutte, mother of Wolf, said the family has "talked a lot about it."

"To say you were in an ATV versus car accident and you walked away — somebody was looking out for them," she said.

She said she hopes others will hear about the accident and learn to be careful.

"Don't go any faster than your guardian angels can fly," she said.